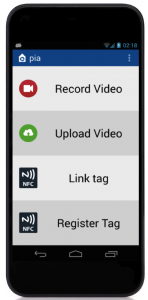 The PIA mobile application can be used by carers to record videos and link them to NFC tags, and by end-users to play videos based on proximity to tags.
The offline version of the PIA app is available for download on Google Play. This prototype lets you: 
Record a video
Link a tag to the video (order NFC tags here)
Read the tag and play the associated video
The online version of the PIA app communicates with the other sub-systems in the PIA service, which means that the user can upload a video to the app from any device over the Internet. Below you can see some screenshots of the online version (currently under construction).